The Basics
Dialogue
A Spoken Line in the Message format has two basic components:
CHARACTER_NAME
Dialogue
Graphic Novel format will have more features which we will explore later.
Actor
Character name should be in all caps and have no spaces.
Actors with two names (i.e. Doctor Smith) should be written in all caps, separated by an underscore.
Only 3 special characters are allowed: underscore, apostrophes and periods. This example would work:

DR._ATH'RODRAK
Dialogue Line
Dialogue lines are Actors talking to each other.
They should not contain any line breaks.
DR._ATH'RODRAK
We all sprang from apes, but you obviously didn't spring far enough.
Line Style: Think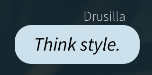 Often you'll want to capture the main Actor reflecting to themselves.
Use a [#think] command for this:
JACK
[#think]
I wonder what she meant by that?
Narrator (Special Actor)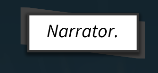 The Narrator is a special actor used to deliver in-game prose description of events to the player.
It's styled differently and sits in the middle of the History.
Narration should be in the 2nd person style, present tense.
NARRATOR 
You lean down and looked over the corpse.
NARRATOR 
The short, cool breeze helps you forget about Tiffany.
NARRATOR
Tuesday, 3:14 P.M.
1256 Juniper Blvd.
Narration is from the perspective of the player, and so cannot inform the player of things the Voice Actor doesn't know.
Bad Example:
You leave. Marco doesn't feel happy about that decision.
Good Example:
As you leave, you notice Marco scowl. It appears he's unhappy with your decision.
Narration should never take the place of non-visualized Actors, such as a computer speaker or television.
Line Style: Time

The Narrator may indicate that that [#time] has passed without changing locations
A character sleeps for the night and wakes up the next day.
One character waits while another leaves and returns with something.
A character takes a test.
NARRATOR
[#time]
Three hours later.
Note: A [#time] transition should never directly follow a Travel transition.
Line Style: Notification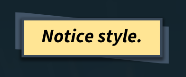 This style of Narrator is to teach the player something.
It should be used very sparingly as it is used to break the narrative
NARRATOR
[#notice]
Be aware how you treat the townsfolk. Each one has a way of helping you.
Narrator Technical Details
It functions like a normal Actor, with the following exceptions:
Does not need to be defined in a Moment.
Does not need an Enter or Exit command. Instead, Narration is great for describing how another Actor enters or exits the Moments.
Has no visualization and cannot leave the Hidden state.
Narrator does not need (and should not have) an emotion