Interactivity
Choices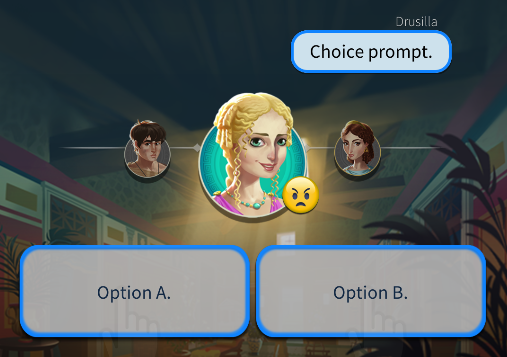 In this section, you'll learn how to provide the player choices and move them around your script non-linearly using labels / jumps.
Labels
Before you can move the player, you have to create places the player can be moved to. Placing labels into your script is just like placing bookmarks into a book.
You place them anywhere that you want to be able to jump to quickly.
You can place as many as you want in as many places as you want.
You can read right over them - they aren't part of the story.
To label a section of text put a colon (:) followed by the name of the label on a line before any other text
:label_a
NARRATOR
Here is some text under a label
When creating labels, there are a few rules that must be followed.
All labels must be completely unique. Imagine if you told someone to turn to the pink bookmark, and there were two pink bookmarks in the book. How would they know where to go?
Label identifiers can ONLY support letters, numbers, and underscores. No other characters allowed.
Jumps
Once you have a label in place, you can send players to it with a jump. Create a jump by typing an arrow -> (hyphen and right carrot), a space, and the identifier of the label you want to navigate to. Only add the identifier to the jump. That means no color, such as in a label
NARRATOR
Off we go to Neverland
-> neverland

NARRATOR
This line is skipped

:neverland
NARRATOR
We're here in Neverland
A jump or label can be by themselves (extra lines around them)
NARRATOR
Off we go to Neverland

-> neverland

NARRATOR
This line is skipped

:neverland

NARRATOR
We're here in Neverland
The game reads your script top to bottom. As soon as it progress hits your jump, it will immediately and invisibly navigate the player to a label with the matching identifier in your script.
Choices
Choices are the primary way we create interactivity in Tales stories. There are three components:
Spoken Line Prompt
Choice Option A
Choice Option B
Note: There must always be exactly two choices per choice point. We will support more in the future.
Spoken Line Prompt
This is identical to a spoken dialogue line except that it's rendered with a blue stroke on the outside as a question to the player.
Choice Options
Options are horizontally made up of:
* This defines the line as a choice option.
(Emotion) Works the same way as in a spoken line.
Dialogue. Works the same way as in a spoken line.
A jump (Made up of a -> and identifier).
You may notice that the choice options are nearly the same as spoken lines, only horizontally laid out instead of vertically. The only missing component is the Actor, who, in the case of choices, is always assumed to be the Voice Actor.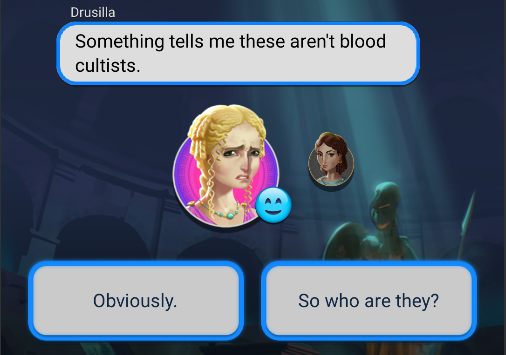 DRUSILLA 
(Nervous) 
Something tells me these aren't blood cultists. 
* (Smug) Obviously. -> cultists_obviously 
* (Confused) So who are they? -> cultists_they
Action Options
[#act] is a type of Style code only used in choices, which prevents options from being spoken by the Voice Actor and entered into the history. For example, if Bob chooses to (Jump out of the way.) when a car is driving toward him, we don't want Bob to actually say , "Jump out of the way!"
NARRATOR 
Drusilla smiles at you, then jogs ahead with the torch. 
* [#act] (Neutral) (Chase Drusilla.) -> answering_cornelia 
* [#act] (Neutral) (Refuse to play her game.) -> answering_behind
Special rules
#act options should be stylistically wrapped in parentheses. This lets the player know they are choosing to do something rather than say something.
Even though #act options are never spoken, they still require an emotion. Always add (Neutral) prior to the option.
You cannot add a Reward inside an #act option. See more about Rewards in the Rewards section of this guide.
It is possible to have one option be an #act option, and the other option to be a spoken option.
You should use spoken options rather than #act options whenever possible.
The first line in the content following an #act option must have a Narrator explanation of what the player chose.
MIKE 
(Smug) 
What are you going to do about it, huh? 
* [#act] (Neutral) (Punch him.) -> huh_punch 
* [#act] (Neutral) (Ignore him) -> huh_ignore 

:huh_punch 

NARRATOR 
You punch Mike squarely in the jaw. 

-> huh_knit 

:huh_ignore 

NARRATOR 
You choose to ignore him. 

-> huh_knit
Naming Convention
In the example below, notice that both the :dress_great section and the :dress_else section both end with a -> dress_knit jump, and therefore both culminate in the :dress_knit section.
This is the fundamental structure of simple choices - branch out, then knit back together.
Notice that the identifier used starts with the end of the prompt (dress) + underscore + last word of the Choice Option (great and else).
BECKY 
(Happy) 
What do you think of this dress? 
* (Happy) It looks great! -> dress_great 
* (Confused) Maybe try something else? -> dress_else 

:dress_great 

AMANDA 
(Surprised) 
You think so? Great! I'll wear it, then. 

-> dress_knit 

: dress_else 

AMANDA 
(Angry) 
You don't look so great yourself, you know. 

-> dress_knit 

:dress_knit 

BECKY 
(Neutral) 
Let's just get moving so we're not late.