Prose Basics
Text
Your text will come out a couple paragraphs at a time with each tap
Readers will be able to scroll up at anytime to re-read if they missed something.
Dividers
Chapters are typically short and provide a natural breakpoint for your stories
However, you may want to create a small flourish divider in your story.
Simply add three hyphens --- with a line break before and after:

It is a truth universally acknowledged, that a single man in possession
of a good fortune, must be in want of a wife.
`---`
However little known the feelings or views of such a man may be on his first entering a neighbourhood, this truth is so well fixed in the minds of the surrounding families, that he is considered the rightful property of some one or other of their daughters.
Visuals
Images
You can use images in your story to represent pictures that one character is sending to another
The player should not need to see an image to understand the story. Players should WANT to see them, but not NEED to.
Do not use copyrighted images, make sure you've chosen images that are royalty free.
There are 2 types of images: Objects and Vignettes.
Objects
Objects are typically physical items presented without context.
They're helpful when an item is impactful (such as an artifact or keycard) or isn't effectively described (such as a comedy twisty straw).
Objects enter chat history without a background.
Use the syntax [&. OBJECT_NAME] (notice the . after the &)
NARRATOR
Drusilla turns from you for a moment. When she turns back, she holds a tightly rolled scroll in her hand.

NARRATOR
[&. PLAN_SCROLL_SEALED]
Vignettes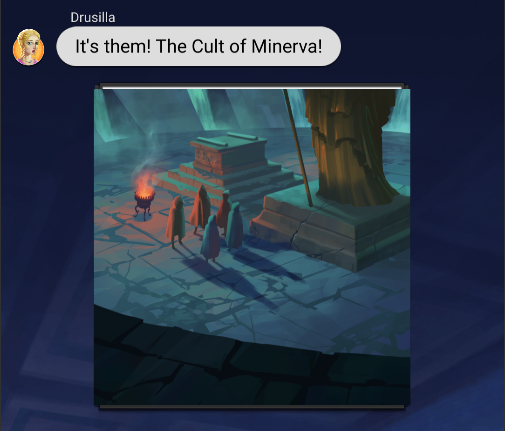 Vignettes are typically full painted scenes comprised of characters, items, and locations.
They're helpful when you have a big or explosive moment to show, or want to leave the player on a powerful image at a cliffhanger.
Use the syntax [&. VIGNETTE_NAME]

Note: The syntax for Vignettes and Objects is identical except for the period after the ampersand. Objects have a period, Vignettes don't.
DRUSILLA
(Surprised)
It's them! The Cult of Minerva!

NARRATOR
[& BATH_FIGURES]
Sets
We will be providing the ability to change the wallpaper of your story.
You'll be able to select one of 20 options below, simply copy the full path into the tool when you Add Assets
[IMAGES TO COME HERE]
Comments
If you ever need to leave notes to yourself and do not want the reader to see it, simply add a semi-colon ; at the beginning to create a comment. You'll find this a useful way to communicate with your editor or with FableLabs:
; I might want to insert an image here instead of describing it with words.
Ready to Level Up?
Start playing around with the Tales Writer!
If you've mastered the basics, continue onward to learn how to add:
Choices
Variables
Conditions
Multiple Endings